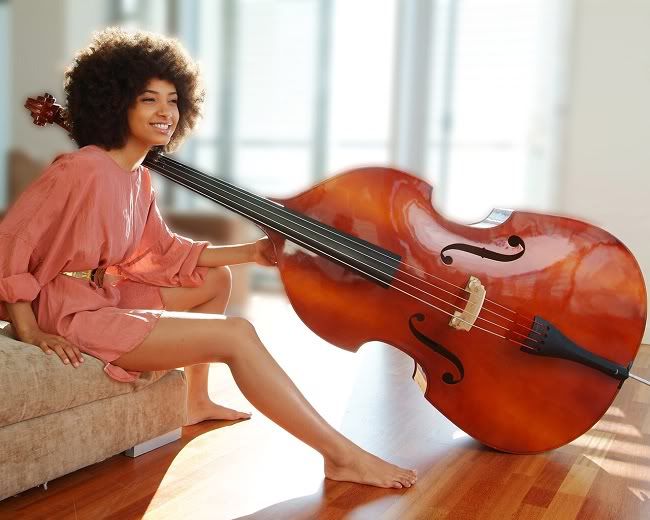 "Like waking up one day and realizing you're in love with a co-worker." ~ Esperanza Spalding on discovering the bass
Esperanza Spalding knows a thing or two about jazz, and she also knows a thing or two about fashion. The 26-year-old bassist has accomplished quite a bit in her career, releasing three cd's, touring worldwide, teaching music, and even developing courses for her alma mater, Berklee College of Music. And she managed to do it all fashionably, in an effortless uniform of jeans and breezy dresses, plus the hair. The
hair
.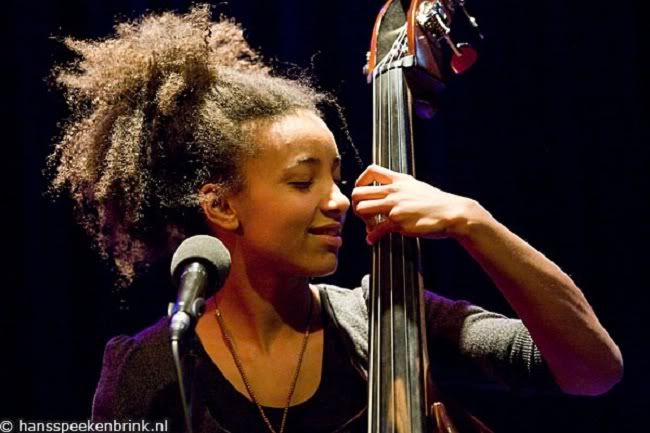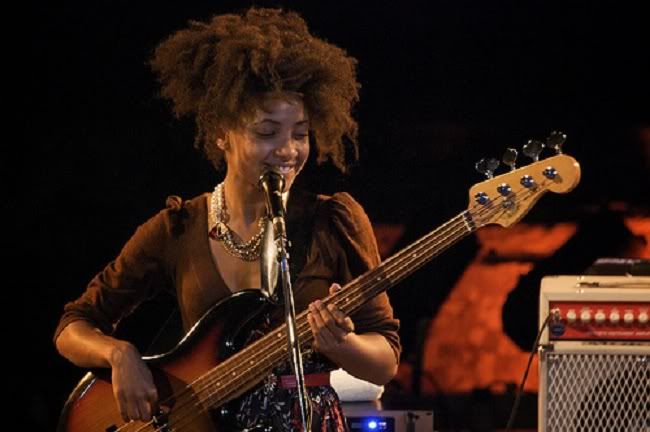 Spalding grew up in Portland, Oregon and was interested in music early, after watching celloist Yo Yo Ma on
Mister Roger's Neighborhood
when she was only four years old. By five, she had taught herself to play the violin and was a part of the Chamber Music Society of Oregon. The musical prodigy, who was concertmaster of the Chamber Music Society by 15, also found high school "
easy and boring
" and dropped out at 16 to get her GED. She then enrolled in Portland State University as the youngest bassist in the program before transferring to Berklee College of Music. Graduating in 2005, she was immediately hired by Berklee to teach and became their youngest professor at the age of 20.
While attending school, she also toured with musicians
Patti Austin
and
Joe Lovano
and performed in blues clubs. In 2006, her first cd,
Junjo
, was released to critical acclaim, followed by
Esperanza
in 2008 and
Chamber Music Society
in 2010. While
Junjo
focused mainly on the instrumental music made by herself and three other musicians, her last two records prominently feature songs written and sung by Spalding while accompanied by other instrumentalists.
Chamber Music Society
got her nominated for a Grammy this year, for
Best New Artist
.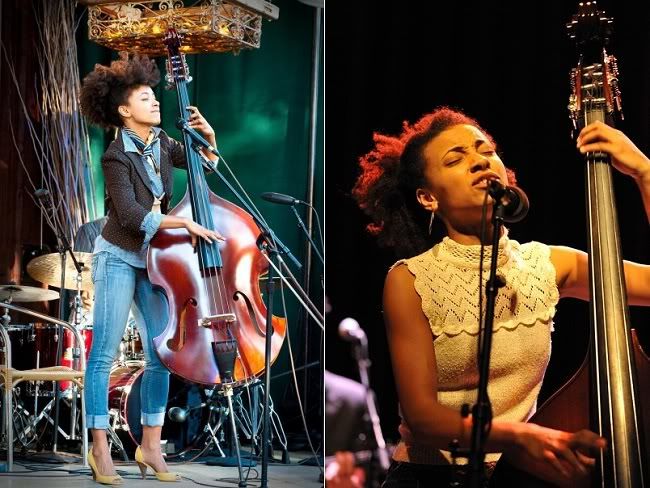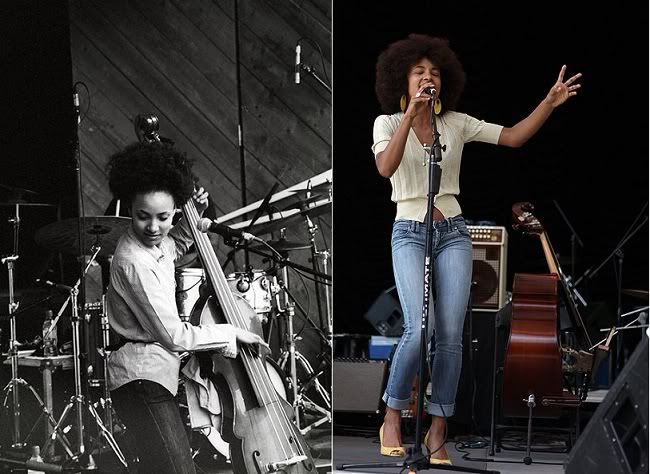 I love her style. She doesn't wear fussy or overdone clothes, preferring to perform in jeans, t-shirts, and button-ups. She's also a smidge androgynous, incorporating ties worn like necklaces and shrunken blazers with high heels. Nothing with this girl is overdone; instead, Spalding's laidback vibe screams 'cool chick down the street.'
Much has also been made of the fact that she's natural, in an industry where most of the female performers of color straighten their hair. Of African-American, Welsh and Spanish descent, she told website
Curly Nikki
that "I've been natural my entire life! My mother didn't believe in relaxers, and vowed never to put lye on her child's scalp... I've never had a relaxer, and I never will." She also stated that she "never really think[s] about it [her hair]" and how it sets her apart in an industry dominated by a certain, Euro-centric standard of beauty.
"I mean, it certainly makes me 'identifiable' when I show up with my Afro, but, to me, that's the most obvious way to wear my hair. That's how it grows out of my scalp. Having big natural hair makes me stand out to people at first take. I think of myself as an artist, as a musician, and I'm happy that my hair is just one more way that I can express myself."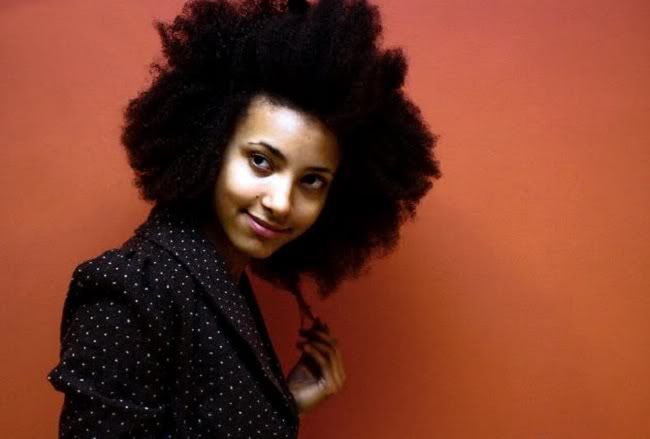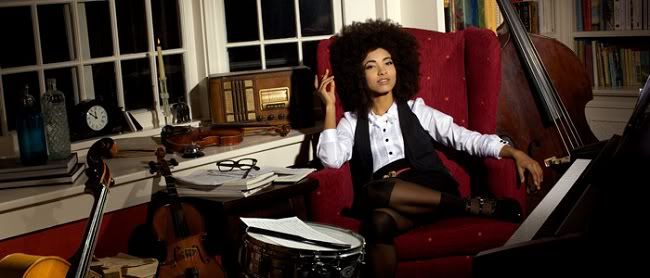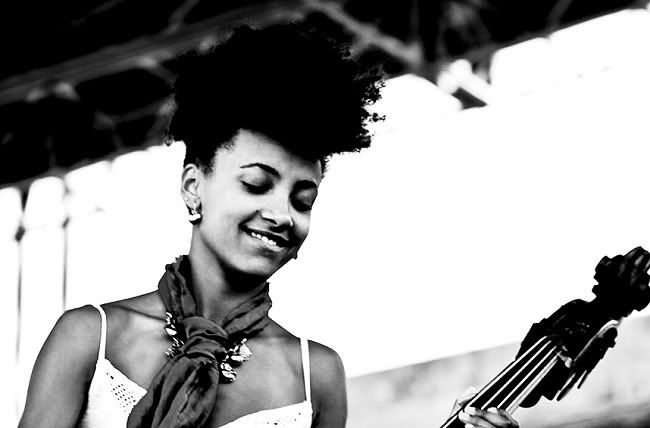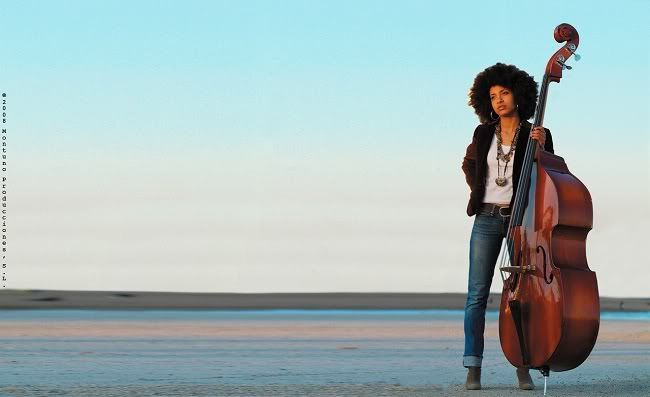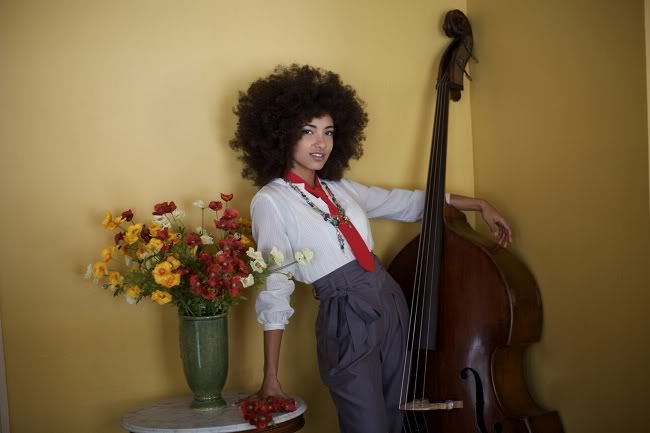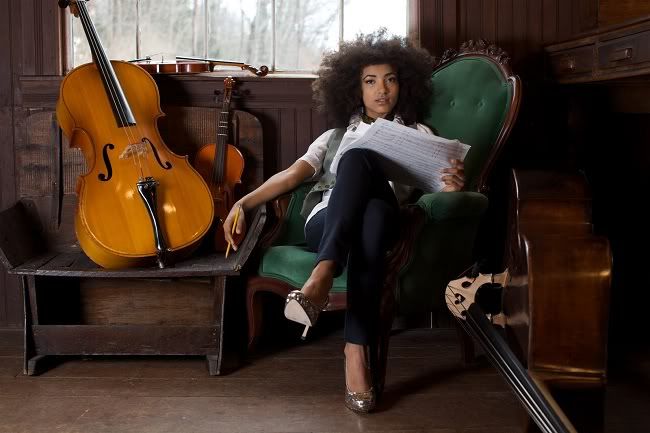 For your listening pleasure... the first minute of the first video is them interviewing her (which is pretty interesting in its own right), but the song itself starts at 1:35.
'I Know You Know' on electric bass: