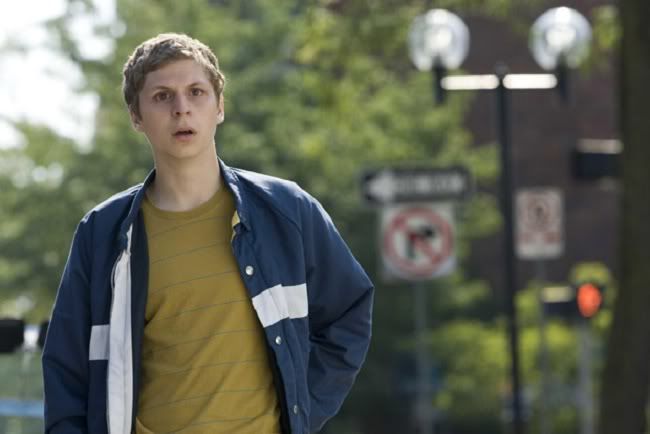 '
In the movies the good guy gets the girl. In real life it's usually the prick.
' ~ Nick Twisp
Let me tell you this upfront: the characters of
Youth in Revolt
had names straight out of a porno. Nick Twisp. Francois Dilinger. And the
coup de grace
: Sheeni Saunders. If they weren't well-dressed it would have been a travesty. But well-dressed they were, especially Twisp, a French-loving high school student who's swept into subterfuge by his alter ego, Francois Dilinger.
Twisp's uniform consisted of tucked-in slogan tees and cropped chinos; the epitome of a nerdy slacker. He created Dilinger when he met Saunders, a Lolita-esque blonde who batted her eyelashes at him as she played French records on wax. He was hooked before you could say 'La Vie Boheme,' but his hopes were dashed when he found out she already had a boyfriend. Enter Francois Dilinger.
'
I Want To Tickle Your Belly Button... From The Inside
' ~ Francois Dilinger
Dilinger was the anti-thesis of Twisp. His neatly trimmed moustache, casually lit cigarette, and crisply ironed button-ups were effortless cool, along with a deep side part and white linen pants. He even wore a bejeweled pinky ring. While outside, he donned a pair of blacked-out aviators that almost made you forget he was purely a figment of Twisp's imagination.
Twisp created Dilinger to impress Saunders, but ended up finding a spirited nature beneath his French romanticism and intelligent, sardonic one-liners. The neat way he managed to wear simple tee shirts showed that there really was a fashionable Dilinger in there somewhere. Under his tutelage, Twisp blew up his stepfather's car, got his girlfriend expelled, and finally lost that pesky V-card. Among
other
things.
More pics: