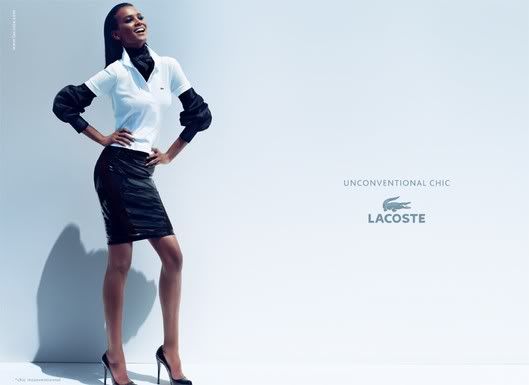 After 10 seasons of its memorable
Un Peu d'Air Sur Terre
('A Little Air on Earth') ad campaign, Lacoste will introduce a new concept in January under the tag line 'Unconventional Chic.' They're set to spend $66 million on the campaign, which will feature individual models, including Liya Kebede, Anja Rubik, Jon Kortajarena and Noah Mills.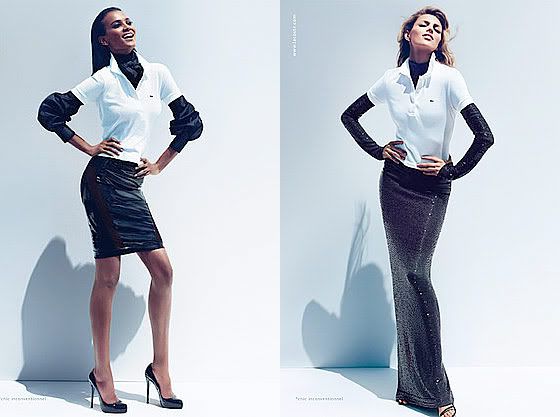 Liya Kebede and Anja Rubik
The concept of 'Unconventional Chic' is meant to instill the idea that the iconic polo's and other American sportswear of Lacoste can be worn in entirely new and glamorous ways. For example, the recently released images of the upcoming ads show models wearing white polo shirts over evening dresses and formal wear. Chief executive officer of Lacoste, Christophe Chenut, stated that: "After five years it was time for a change. The previous ads were very product-focused and we felt we needed a campaign that was an affirmation of the brand statement as a whole... We're showing that you can be chic in a different way..."
Charlotte Cowes of
New York Magazine
wasn't impressed, proclaiming the ads '...look like you're going to a cocktail party and got sidetracked by a tennis match.' I must say I agree. While I like the look on Kebede as maybe a chic alternative to a suit for work, the polo over the evening gown on Anja Rubik looks insane and would
never
be appropriate for any kind of black tie event. Plus, I loved the quirkiness of the 'Un Peu d'Air Sur Terre' ads... I always knew they were Lacoste right away. This spread looks like any other fashion house out there. Bad move.
To read more, click
here
and
here
.
Some of my favorite 'Air' ads: