'
She must be found.
'
SPOILERS AHEAD
: Mrs. Coulter is a nasty piece of work. The primary antagonist of the
His Dark Materials
fantasy book trilogy by Phillip Pullman, she kidnaps and conducts experiments on children, cruelly attacks animals, and uses her own daughter for wealth and power. She's an expert at torture and habitually drugs people when they refuse her demands. She is a nasty piece of work.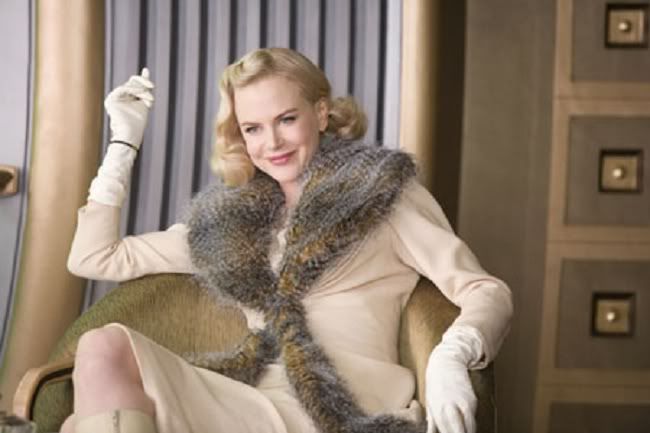 Marisa Coulter
That being said, she is one of the best dressed villains I've ever seen. If bad always looked this good, there would be way more Jedi's crossing over to the Dark Side. (*raises hand* Sartorially speaking,
Draco Malfoy already has me halfway there
.) She's complete
Mad Men
with just the barest hint of Cruella de Vil peeking through, like an evil, sexy secretary. I love it.
When we meet Mrs. Coulter in the film adaptation of
The Golden Compass
, the first book in the series, it is not immediately revealed that she's the bad guy. Instead, we marvel right along with main character
Lyra
at her shimmery, sparkling evening gowns and perfectly curled hair. There is an icy, steel reserve under her soft smile, but it's easily hidden with clothes meant to showcase polish and a warm reserve. This is not your harried, disheveled mother- her persona is carefully cultivated as the glamourous woman you simply want to BE when you're a child.
Mrs. Coulter and Lyra
Mrs. Coulter treats children with kindess, love, and compassion in the beginning, though she is later shown to possess none of the qualities above. Likewise, her wardrobe consists entirely of warm, rich tones like golden hued dresses and burgundy jackets. Coupled with her golden fingerwaves and understated make-up, the effect was stunning; in every scene she looked as inviting as a blazing fireplace on a crisp autumn day.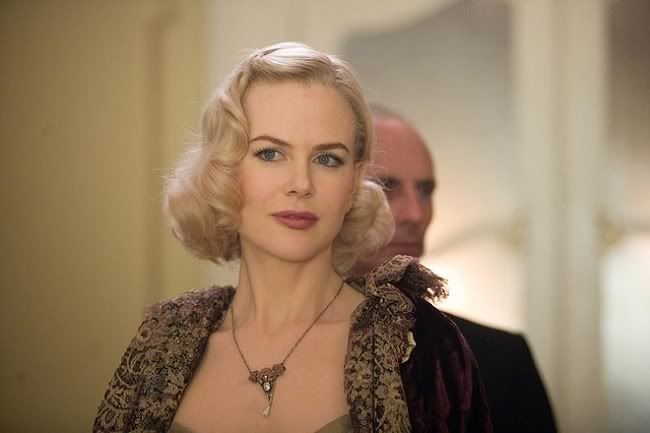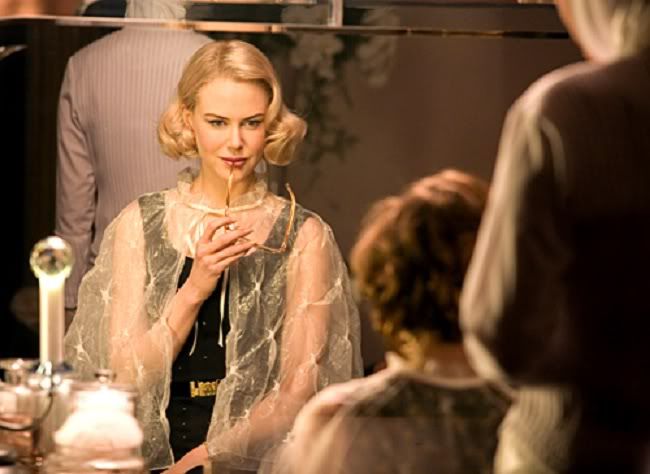 The power-hungry villainess was also often outfitted in separates, which kept her more formal attire on the casual side. She wasn't overwhelming to the children she manipulated or the movie viewer, even when wearing nothing but an embellished cardigan and a flimsy nightgown. And while watching, I just couldn't shed the initial illusion of her as something of a sweet schoolmarm... even after I saw her cutting an innocent woman to pieces with a sharpened knife.
More pics: