Emma Watson in Dion Lee in NYC
British exports are all the rage these days, and, right now, there's no one doing it better than Emma Watson. The
Harry Potter
star has been
appearing on red carpets since she was nine years old
, but, at 20, she has finally come into her own fashionwise. (And for all you Harry Potter heads out there like me, you must
click this link
. Insane how times change, isn't it? I grew up with them.)
She became
the face of Burberry in 2009
, shooting numerous advertisements, and quickly became a favorite of the brand's chief creative officer Christopher Bailey. For the Burberry Bespoke Spring 2011 line, he even included a trench number with leather accents designed specifically for her. It debuted at Fashion Week in September, and Watson was immediately seen in it this month.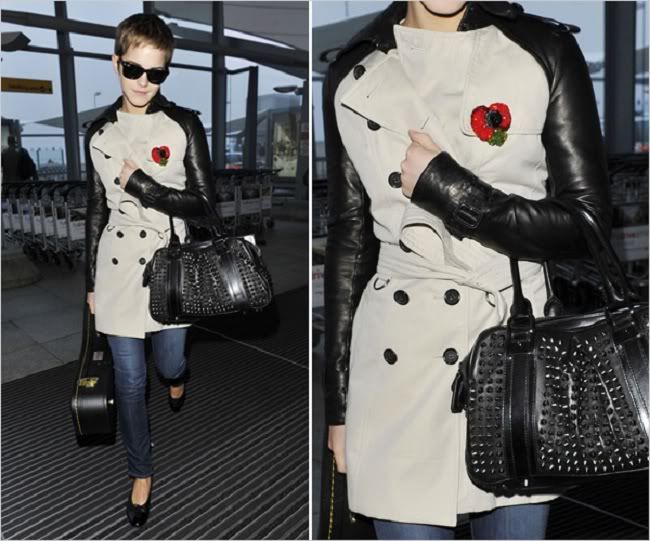 In Burberry Bespoke at London's Heathrow airport
Her whirlwind promotional tour for
Harry Potter and the Deathly Hallows
has given her full opportunity to display just how far she's come. From television appearances and premieres to grabbing lunch in NYC, Watson has shown that she possesses a sense of style that's both classy and entirely age-appropriate.
Watson's casual looks are fun and well put together without being too tight or too revealing, and her 'work looks'- dresses for premieres and other professional appearances- are usually colorful, youthful, and, best of all, interesting. She doesn't play it safe with designers and dresses that you've seen on every other starlet her age, but she also isn't overly trendy or all over the 'edgy' bandwagon.
Rihanna, I'm talking to you!
At the Harry Potter and the Half-Blood Prince premiere in London
While she has been slowly maturing into something of an icon over the years, she cemented that status when she cut her hair into a short pixie cut three months ago and debuted it on her Facebook page. Watson claimed she'd wanted to cut her hair for years but couldn't, as character Hermione Granger was known for long, thick hair. The cut has definitely signalled the transition to an adult Watson.
She studied art at the Stagecoach Theatre Arts School, and in September 2008, she told a blogger, "I've been focusing on art a lot, and fashion's a great extension of that." She also worked as a 'creative advisor' for People Tree, a Fair Trade fashion brand, to create a
spring line that was released in February 2010
and a 2010 Autumn/Winter collection. Watson wasn't paid for the collaboration, and stated that "Fashion is a great way to empower people and give them skills; rather than give cash to a charity you can help people by buying the clothes they make and supporting things they take pride in..." and "I think young people like me are becoming increasingly aware of the humanitarian issues surrounding fast fashion and want to make good choices but there aren't many options out there," to
The Daily Mail
and
The London Times
, respectively. Smart
and
fashionable. I love this girl!
More pics:
On the 'Deathly Hallows' promotional circuit
At LaGuardia Airport
In a green Marios Schwab dress on Live with Regis and Kelly
... sorry about the quality on this one, but it is the only one I could find of her in the dress! And I think she looks really fantastic so I posted it even though it's just a screen grab.
At the Harry Potter and the Deathly Hallows world premiere in London with Rupert Grint and Daniel Radcliffe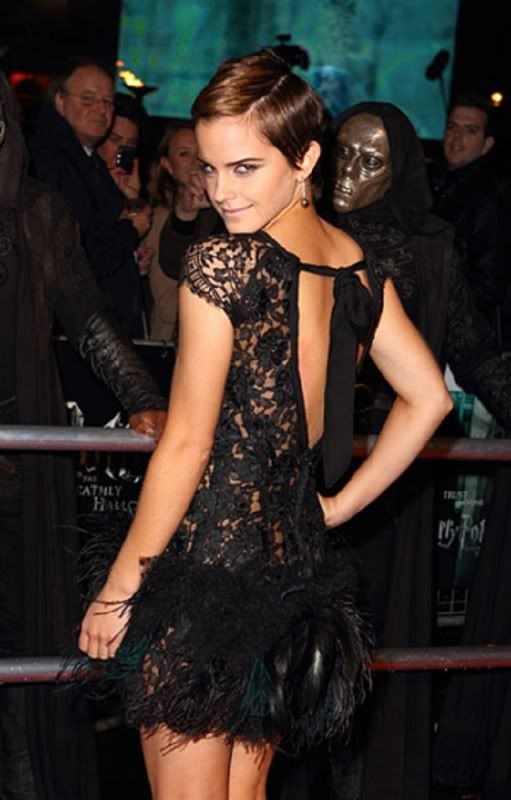 Arriving at The Letterman Show
All images via
The Daily Mail
and
i heart watson